At Capacity
Redball Recess Fall 2017 Recess · Co-Ed Social
Sold Out
MonTueWedThuFri
Sat
Sun
10:00am to 6:00pm
Registration end date does not guarantee spots will be available until then. Registration will close as soon as the league reaches capacity
Team Fees

Early Bird

30.0

per player

Regular

35.0

per player

Late

45.0

per player
Free Agent Fees

Early Bird

30.0

Regular

35.0

Late

45.0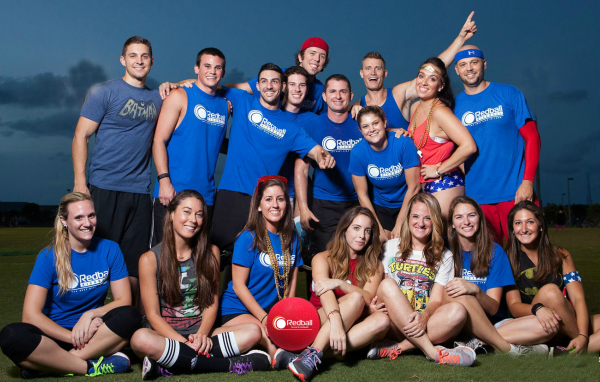 Redball Social introduces
Grade school - Recess for Adults
October 21st, 10am - 6pm
If you are 21 or over you can join & play.....


*4 to 6 on team Corn Hole Tournament

* Hungry Hungry Humans-Inflatable
* Flip Cup Event
* Kickball Challenges
* Three Legged Race
* Tug Of War
* Open Volleyball play
* Free Beer and Corn-Hole
Here's the deal :
Absolutely no experience or athletic ability is required. If you want to have fun and meet a bunch of like minded people, this is the place to be. Are you new to town or can't convince your friends to join, no problem just sign up as a free agent and we will place you on a team. Anyone can sign up as an individual, with a group of friends or bring a whole team.

The games start hourly from 10am-6pm on Saturday October 21st with your teams specific start time rotating during the day.
Teams are coed & consist of 4 to 6 players-must have 2 of each gender as a minimum

We will be at Ty Park

Each team will compete against the other teams in 5 declared games: Inflatable Hungry Hungry Hippos,Corn-Hole Tug-Of War, 3 legged Races and A Kickball Challenge(various skills will be tested).

Each team will receive points for winning each event. Corn-hole, Hungry Hippos and Tug-Of War will be a single elimination style. (All teams).

3 legged race will be all teams competing in 1 race with top 3 receiving points.

Kickball Challenge-Will be a single event where 1 team competes vs 1 other team for points.

The points are as follows: 1st place- 3 points, 2nd Place-2 points and 3rd place 1 points(Points are for each event.)

There will be prizes for the Recess winner of the day.

$35.00 per person

We have a pavilion and will offer free beer.

Open Volley Ball-There is a court near our Pavillon that you can play.